A very modern and aesthetistic space hidden in MAD Society – Floor 4th, Somerset Building– No. 2 Tay Ho, Quang An, Hanoi.

Being a destination of food space, serving Asia mixed menu and with the design in Art Deco which considers charming, passion and receiving the careful selection of project investor. This make MAD Society Project become an amazing restaurant since it opens. This is also the reason why Prime tiles was selected for this well-known project.

Prime world class tiles brings the project matching functions for slippery areas and with heavy traffic at a restaurant such as MAD Society restaurant.
Tiki bar area is applied with Prime anti-slip tiles R12 and with structure-mold surface on wooden tone. This is not only to ensure this area having the perfect combination of floor and interior furniture but also ensuring the safety of the customers who travel arounding the swimming pool.
Anti-slip Prime tiles R12: product code 03.150600.11647
Information Box 03.150600.11647:
Water absorption: <0.1% (test method ISO 10545-3)
Anti- Stain level: Min 5 (test method ISO 10545-14)
Anti-slip class: R12 (test method DIN 51130)
Surface: Matt & Structured

Insiding the food indoor areas of MAD Society, Prime tiles of large format size 80×80 cm, matt satin is applied on the floor area of 300 m2. The selection of brown shading in modern and minimalist style brings the deep look for this space, creating the luxury and elegant in combination with specific furnitures.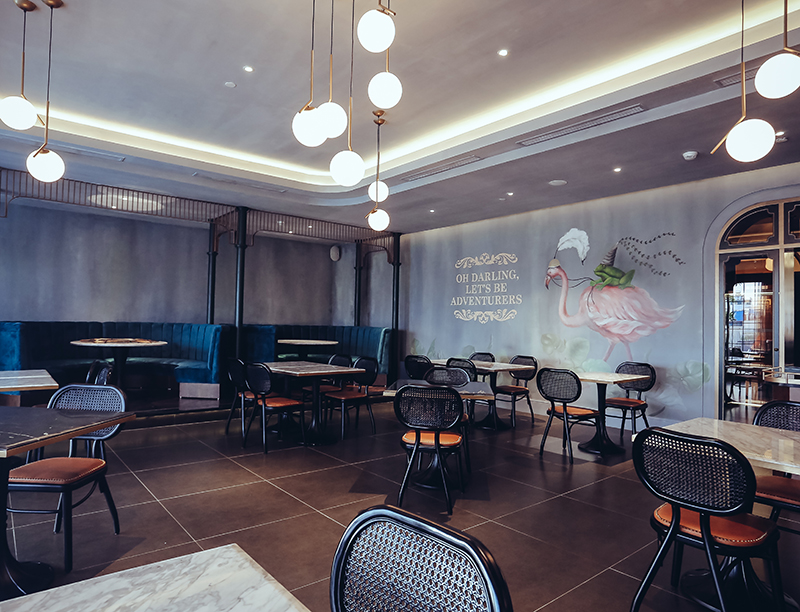 Prime tiles code: 03.800800.08874
Information Box 03.800800.08874:
Surface: Matt satin
Thickness: 11,4 mm
Product type: Glazed porcelain, BIb group (according to ISO 13006/EN 14411), rectified
If you love Asia food and would like to sink into a Art Deco space, MAD Society – "Modern Asian Dining" is a good destination in your top list.
Written by:
Nguyen Thi Huyen Trang
– Marketing Communication
Image source: Supported by Lux Studios – a consulting and construction company & Ms. Lan Phương – Marketing (Branding Team)