Every year PRIME participates in 'Vietbuild', one of the most important and largest international trade fairs in Real estate – Building Materials – Interior & Exterior decoration. In Vietbuild Hanoi PRIME 's display area has increased allowing us to showcase products from all of our lines: Tiles, Water heater and Rooftiles and especially attract the visitors with our new tiles collection derived from Style Living Inspiration.

PRIME 's Tile collection is huge and absolutely stunning. If you're looking for a cleaner modern look with minimal details, Prime recommend you a marble-looking porcelain tile.
A marble-looking porcelain tile is much more affordable than natural stone while providing easier maintenance. Produced in big size 40×80 cm and 80×80 cm, extremely strong and dense while also being frost resistant and highly resistant to stains scratches and moisture; allowing it to be installed in almost any application including lobby, kitchens and bathrooms.

PRIME designers are bring back to very simple and elegant design to create industrial style to your house.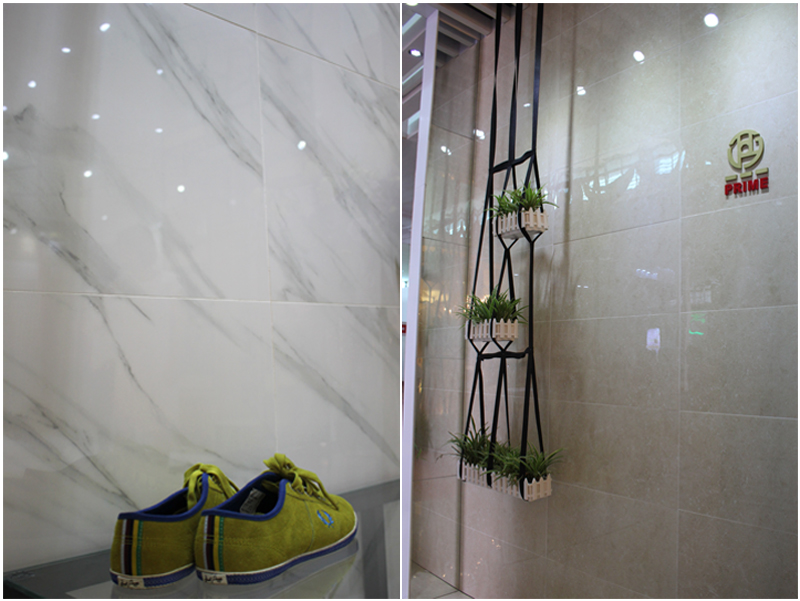 Are you noticed the constant feeling of Spring around you when you're going out? Here in PRIME booth, the tiles designs are full of nature, not only in color but also in shape. Colors are remaining neutral and deeper while shapes are mimicking flowers and fruits, giving designs a more organic feel without being overly obvious. PRIME has utilised luster effect and sinking effect to bringing out nature inspired products across the board. It's a good suggestion for fab-contemporary style.
An easy way to incorporate cozy and charm in a beautiful space is by using wooden-look tiles. PRIME tiles in slab format (15×60 cm, 15×80 cm) and with glossy or matt finish are best for those seeking a more traditional feel and a classy – rustic style.
Some photos from PRIME booth at Vietbuild exhibition:
Are you as inspired as we are? Don't miss out any photos from our Facebook album in Vietbuild Hanoi.

Written by:
Nguyen Thi Huyen Trang – Marketing Communication