Not only durable and beautiful, but Prime glazed ceramic roof tiles also possess many outstanding advantages, always ahead of the trend and becoming the best-selling product recently. So what makes this product so dominant in the market? Let's find out in the article below.
1. Design suitable for modern architecture
Globalization is an inevitable trend, allowing countries around the world to expand their linkages, cooperation, and development in many fields. In particular, the interference between different architectural schools and design styles has created highlighted in many projects around the world.
In Vietnam, the introduction of Thai and Japanese roof designs has brought a new trend, a luxurious and modern living space for users. If in the past, Thai and Japanese roof designs can only be seen in townhouses and villas, now, this architecture is making a mark in many Vietnamese countrysides.
Thai roofs are often high-pitched, A-shaped, with several levels. The roof is designed to reach out from the front of the house, bringing sophistication, luxury, and harmony to the overall architecture.
(Design of Thai roof house featuring Prime premium glazed roof tile. Product code:08.06.109)

Unlike Thai roofs, Japanese roof houses are designed with simpler, low-slope roofs, making them a great choice for those who love the minimalist Japanese lifestyle.
Although they are different regarding the slope level, both Thai and Japanese roof architecture are assessed to have the good anti-leaking ability, suitable for the climatic conditions of Vietnam. Therefore, the design of Thai and Japanese roofs has become the first choice of many projects today.
(Design of Japanese roof house featuring Prime premium glazed roof tile. Product code: 08.06.108)

Grasping that trend, Prime Group has researched and launched a line of glazed roof tiles with modern, large wave designs, completely suitable for Thai and Japanese roofs, satisfying the tastes of customers. Moreover, Prime Group's product developers also offer a color palette with diverse shades, from popular, and friendly to luxurious, and personalized. That helps the products suitable for all architectural styles such as modern, neoclassical, and classic, meeting the changes in the user's aesthetic taste.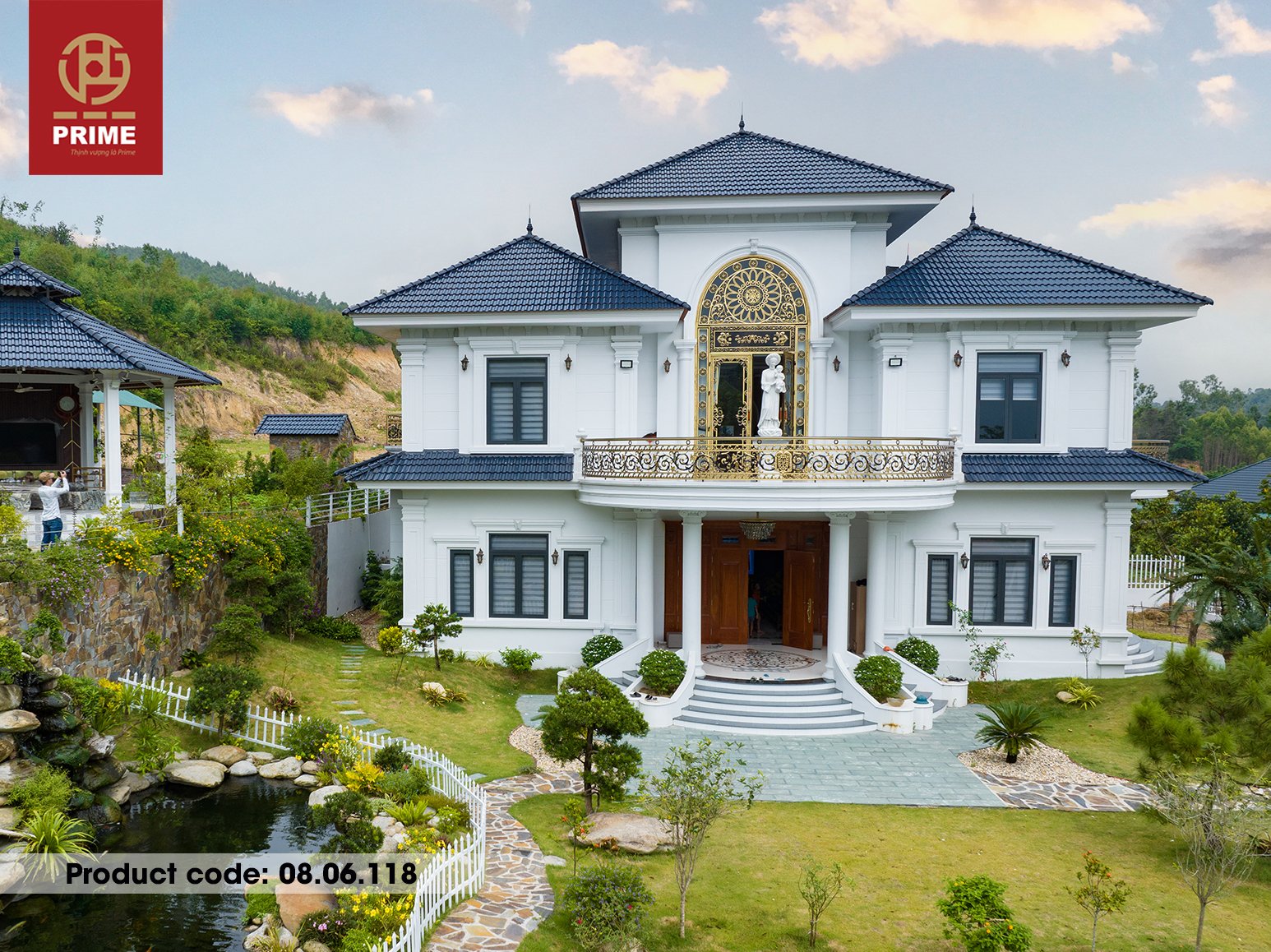 (Design of Japanese roof house featuring Prime premium glazed roof tile. Product code: 08.06.118)
2. Overcoming the disadvantages of other tile products.
Prime Group's premium glazed roof tiles have a full range of outstanding features from other roofing products. It is made of natural clay materials, has good heat dissipation and anti-leakage ability, similar to traditional terracotta tiles, and comes in a large wave design suitable for modern house architecture, like cement roof tiles. But more than that, the products can overcome the disadvantages of those two roof tile lines.
(A house featuring Prime's premium roof tile. Product code: 08.06.118)
Anti-moss and anti-mold ability, color fastness, self-cleaning ability
Compared to traditional terracotta roof tiles and cement roof tiles, the surface of the Prime glazed roof tiles is coated with a glossy glaze to create a self-cleaning mechanism when it rains, helping to minimize the condition of moss, creating absolute color fastness for the product, and keeping your roof look new.
Lighter than traditional terracotta roof tile
Prime glazed roof tiles help reduce the load on the roofing frame, offering the solution to optimize construction costs while ensuring a durable, strong, beautiful roof structure at the same time. For more details, to roof a square meter, you will need 22 traditional roof tiles with a weight of about 44 kg, but only 10.5 Prime glazed roof tiles will do. This reduces the total roof weight by up to 18-25% compared to traditional roof tiles.

(Prime glazed tile has a high color fastness
Product code: 08.06.118 / 08.06.102)
Better insulation than cement roof tile
Prime glazed tile has low heat absorption, bringing a cool, more pleasant feeling than cement tile. Because cement is a heat-retaining material, houses with cement tiles are often hotter. Meanwhile, glazed tiles are manufactured from main materials such as clay, kaolin, etc., so the product has good heat dissipation, bringing a cooler atmosphere in summer, and a warmer one in winter.
3. High-quality products.
An important reason why Prime glazed roof tiles are popular and trusted is our strict quality control process. At Prime Group, each tile is tested by mechanical equipment to ensure the products meet TCVN 9133-2011 standards regardings enamel crack strength, product flatness, and potential defects hidden inside the tile that the naked eye cannot see… before being delivered to consumers.
Besides, Prime glazed roof tiles are made of the same materials as ceramic tiles, including clay, kaolin, feldspar, etc, which are natural materials, environmentally friendly, and safe for human health.
With Prime glazed roof tiles, you will have a healthy, beautiful, and convenient living space.